Follow along as we go behind the scenes with portrait and commercial photographer, Alex Berger, as he creates editorial beauty images in collaboration with makeup artist Jess Berrios!
Silver Beauty Dish
Used on the Main Light
Positioned within 4feet above
The subject and tilted down to an approx. 45-degree angle
This position allows the catchlights to be seen in the eyes of the subject and can be adjusted to your liking.
5 in 1 Reflector
Positioned under the subject's face the reflector bounces the light up from the beauty dish filling in the shadows on the subject's face, created by the main light.
Hair Light
The hair light is positioned behind the subject, raised up, and tilted down to an approx. 45-degree angle.
This adds dimension to the photo by highlighting the subject's hair.
A 20-degree grid is used inside the 7'reflector to control the spread of light so that it is only concentrated onto the hair, and not spilling onto the subject's face or shoulders.
Blacklights
Two are positioned, slightly inward, facing the background behind the subject to ensure even lighting. The strip boxes help direct the light to avoid any light hitting the subject.
Beauty lighting Setup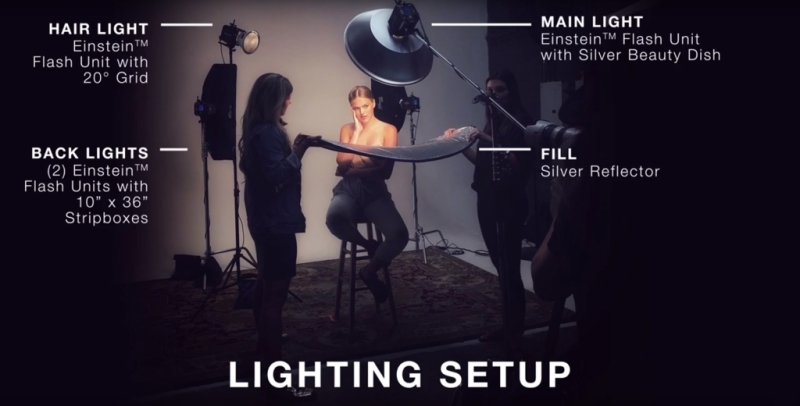 IMAGES FROM THE SHOOT
Alexandra Madar | ISO: 100 | SS: 1/200 sec. | Aperture: f/11
Vienna Rovenstine | ISO: 100 | SS: 1/200 sec. | Aperture: f/11
Camryn Clark | ISO: 100 | SS: 1/200 sec. | Aperture: f/11
Equipment Used:
Einstein Flash Unit
22"Silver High Output Beauty Dish
20 Degree Grid for 7"Standard Reflector
10x36"Foldable Stripbox
5 in 1 Reflector Kit
CyberSync Transceiver
CyberSync Trigger Transmitter
About Alex Berger
Alex Berger is a full-service photographer and creative director based in Nashville, Tennessee. He is passionate about working with clients to create world-class visual content that's both an authentic extension of their brand – and resonates deeply with their audience.
MODELS: Vienna Rovenstine, Alexandra Madar, Camryn Clark
STYLIST: Carson Love
ASSIST: Abbey Wilson, Hannah Deits
STUDIO: Stormlight Pictures